27/02/07

The Board of Commissioners at the Meat and Livestock Commission (MLC) has appointed Richard Lowe as the organisation's Chief Executive Officer.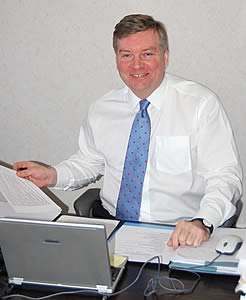 Richard, the former Consumer Affairs Director at MLC, will take up his new post from March 1, 2007.

He succeeds Kevin Roberts, who has been appointed Interim Chief Executive Officer for 'Levy Board UK' where he will work alongside the Chair designate and the Shadow Board *.

Peter Barr CBE has also agreed to have his appointment as Chairman of MLC extended for a further 12 months to 31 March 2008 following a request from Ministers.

MLC Chairman Peter Barr said: "We have an extremely busy year ahead of us and I have confidence that Richard will do an excellent job leading the MLC team".

Richard Lowe said: "The MLC has a lot it needs to deliver over the next twelve months.

"There are big issues facing the British meat and livestock industry, including meeting the challenge of climate change, issues around diet and health and the need to improve our competitiveness within the global marketplace.

"In parallel we have to manage the process of change needed to implement our part in the levy board restructuring, due to be completed by April 2008.

"This is no time to take our eye off the ball!"


MLC Commissioner Appointments:
Eight MLC Commissioners have also had their appointments extended through to 31 March 2008 - Paul Kirk (Deputy Chairman), Helen Browning OBE, Richard Cracknell, John Cross, Dr Kevin Hawkins OBE, Stewart Houston, Professor Richard Moody and Neil Stoddart.

About Richard Lowe:
Richard, 48, has worked for the MLC since 1999 initially as Marketing Director and more recently as Consumer Affairs Director. He has been responsible for providing a range of consultancy services to MLC's federal bodies, assisting them to respond to the challenges raised by issues such as global competitiveness, diet and nutrition and retailer consolidation.
Prior to joining MLC Richard worked for 19 years for Allied Domecq plc, including as Marketing Director for Allied Domecq Inns and as Trading Director for Victoria Wine.

British Meat Exports Soar Past A Billion


EBLEX at the International Food and Drink Event - IFE 07


Beefy's Rump Has The Answer!