Young NI Farming Star Triumphs at Semex Conference
23/01/07
A young farmer from Northern Ireland has picked up the prestigious Holstein UK President's Medal Award, presented on 16 January at the dairy industry's top event – the Semex Dairy Conference.
Lee Graham, Louise Lilburn and Brian Weatherup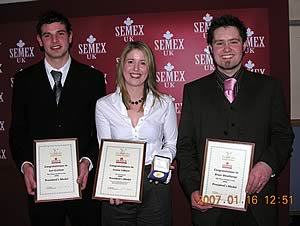 22-year-old Louise Lilburn from Dromore in County Down was named "Dairy Industry Achiever of the Year" in the UK-wide competition and, in addition to the important accolade, won a fully paid place on the 2007 Semex Royal Winter Fair tour to Toronto courtesy of sponsor Semex UK. Northern Irish young breeders have a strong record in the Awards as this is the second winner from the region in four years, with Alison Millar from Randalstown taking the title in 2004. This year Lee Graham from Kirklinton in Carlisle and Brian Weatherup from Cowdenbeath in Fife both achieved runner-up places.
HUK President and judge, Wilbert Rankin, commented on the high quality of entrants this year making selection by the judging panel, which also included Tom Philips, Holstein Young Breeders Director, and Peter Arthur, Semex UK Marketing Manager, extremely difficult.
"All of the nominees displayed great skill, dedication and commitment and we have no doubt they will all feature significantly in the future of British dairying," Wilbert Rankin said. "Louise Lilburn has enjoyed considerable success and acknowledgment with a list of high profile show winnings for her elite Moyrah herd already under her belt. We felt that her remarkable achievements, particularly at such a young age, made her an obvious choice for this award. As a member of NI Holstein Young Breeders since the age of 10, she has displayed great energy and enthusiasm as a team player in representing her club at a national and international level, and is a fine example to other young breeders across Northern Ireland and the UK."
This is the fourth year that the President's Medal Award has been presented at the Semex Dairy Conference, ensuring a strong profile for youth breeding within the dairy industry and forming part of Semex UK's ongoing support and sponsorship of Holstein UK Young Breeders.
"The 2007 Semex Dairy Conference is titled 'The Next Level' and it is entirely appropriate that within this we look to reward and support the young people who represent the future of the industry," said Peter Arthur. "In addition to congratulating Louise, the runners-up and everyone who entered, we have confirmed our long-term commitment to their farming future by extending our sponsorship of Holstein UK Young Breeders for a further three years. The direct benefits of our investment can be seen through the high calibre and level of expertise of the young breeders nominated for the President's Medal and their success stories give us renewed optimism and confidence in the future of the farming industry."
WINNER
Louise Lilburn. Age 22
From Dromore, Co.Down, Northern Ireland
Louise is currently in her final year studying Civil Engineering at Dundee University and has always taken a keen interest in breeding and showing pedigree Holstein cattle. Her family milk 200 head at her parents Brookvale herd and her own elite Moyrah herd. Louise's Moyrah herd has scooped many successes with a list of high profile show winnings including All Ireland maiden heifer, Junior Champion at Balmoral and Premier Exhibitor at the Irish National. She has represented Holstein Young Breeders on both a national and international level since joining Northern Ireland Holstein Young Breeders in 1994. She was awarded the accolade of the young breeder who has contributed most to the success of young breeders in Northern Ireland in the last year.
Runners-Up:
Lee Graham. Age 26
Lee is a member of the Border & Lakeland Club and hails from Kirklinton, Carlisle.
Along with his brother he's responsible for the full breeding programme and day-to-day management of their 130-head Holstein herd. Lee has been an ambassador for the Border & Lakeland Club and the Holstein breed both at home and internationally and won the Individual award at the 2005 European Rally.
He is chairman of the Border and Lakeland Holstein Young Breeders and also represented Holstein UK at the European Young Breeders School in 2005, travelling to Canada in 2006 to be presented with his award for winning at the European Young Breeders School.
Brian Weatherup. Age 26
Brian has been involved in the running of the family farm from a very young age, and is now responsible for the management of 350 head of pedigree Holsteins at his family's Parkend Farm in Cowdenbeath, Fife. He has been a member of Holstein Young Breeders since its inception, and has been involved in showing cattle at numerous local and national shows. As an active member of Holstein Scotland South Club he has won numerous clipping, showmanship and stock judging competitions and was placed first in the under 30's stock judging competition at the Holstein Scotland South herd visit. He likes to spend his spare time with his wife and two children.

Semex Dairy Conference to Tackle the 'Real Estate' of Dairy Farming


Support Invoicing Campaign, Urges Potter


Holstein Sire Jardin Makes Impressive Rankings Debut