Holstein Sire Makes Impressive Rankings Debut
15/12/06
Outstanding longevity, with a particularly high rating for feet and legs, has helped new sire Jardin achieve an impressive Profitable Lifetime Index (PLI) of £81 and third place on entry to the latest herd life proof rankings.
Jardin Maria, a daughter exemplifying the outstanding
lifetime value characteristics of the new third ranked
£PLI sire Jardin.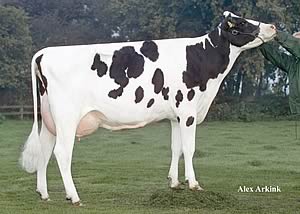 The German-proven Jocko Besne son combines 478kg of milk and +47.5kg combined fat and protein (including a top ranking +24.6kg for protein) to add good production performance to his very sound commercial type traits.

Jardin is available from the new online company Bullsemen.com and, according to managing director Nick Kirby, represents outstanding value.

"Jardin's tall daughters show great potential for development and have outstanding firmly attached udders," he says. "A composite score of +2.00 for feet and legs is also a good indication of longevity, which means great lifetime value."

Jardin is available through the www.bullsemen.com website at a special online price of £19 per straw.

TOP £PLI (PROFITABLE LIFETIME INDEX) SIRES MARKETED IN THE UK
PLI
(£)

Milk
(kg)

CFP
(kg)

Prot.
(kg)

Legs &
Feet

Mam.

Supplier

O-Bee Manfred Justice

87

514

47.8

22.8

0.79

0.06

Dairy Daughters

Mascol

83

431

47.4

20.9

2.14

1.91

Genus

Jardin

81

478

47.5

24.6

2.00

1.01

Bullsemen.com

MOET Lookout CV

77

559

43.4

23.6

2.20

1.99

Genus

Netherside Dynamo

75

700

41.3

23.7

1.27

0.78

Genus
Note:

PLI - Profitable Life Index (PLI) is a very similar economic index to PIN, but it recognises that milk production is not the only factor to influence profitability, but that herd life also has an important part to play. The core of its formula is the same as PIN, but added to this is a weighting for lifespan. The lifespan itself is measured either directly, or - in the case of younger animals - predicted from certain type traits. The type traits with the strongest association with lifespan are leg and foot composite, mammary composite and somatic cell count. Locomotion will be used where available for UK tested sires to replace leg and foot composites.

Dairy UK in drive to promote exports


RABDF urges UK dairy farmers to quantify unpaid labour costs


David Cameron Acknowledges Plight of Welsh Dairy Industry