New CLAAS AXION tractor rolls onto Europe's fields
09/11/06
The new AXION tractor series from CLAAS offers between 163 and 225 hp rated power output. AXION completely redefines comfort with the new CEBIS terminal, new multifunction armrest and unique four-point cab suspension. In addition, the AXION is equipped with the convenient HEXASHIFT transmission and innovative DRIVESTICK control.
Claas Axion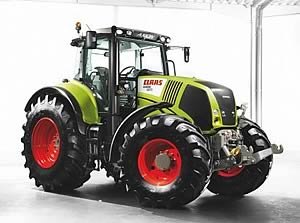 The AXION series achieves a new level of versatility thanks to CLAAS Power Management with up to 260 hp maximum power on the AXION 850. Its rear tyres have a diameter of up to 2.05 m and are profiled not only for work with a high demand for tractive power. With a net weight starting at just 7.1 tonnes, the AXION is also suitable for lighter work and rapid on-road transport at up to 50 km/h whilst ensuring high driving comfort.

The CEBIS terminal is the surest sign of intelligence on the new AXION. Intuitive operation and a key for rapid access to submenus ensure that the settings are kept as simple as possible. An extensive performance monitor is also fitted as standard in conjunction with CLAAS Sequence Management for headland management. Intelligent details such as the remote control for a hydraulic spool valve on the rear wings or the new work lights manager make it clear that the AXION has been developed with customers in mind.
The AXION in detail:
Comfort and the cab
CLAAS tractors are renowned for their high level of driving and operating comfort. The new AXION offers not only impressive well-known features such as the unique four-point cab suspension and a long wheelbase for smooth road travel, but also offers a new dimension in operating comfort with a special AXION version of the new CEBIS terminal. The multifunction armrest on the driver's seat has been completely redeveloped to include all of the functions that are frequently required. Functions that are required less often are now located on the right-hand side panel. Another feature offered by the AXION's improved operating comfort is the new management system for the work lights and the rear lifting gear. Working at night is made much easier thanks to the 14 work lights and up to four additional Xenon headlamps. Operation is also made easier thanks to automatic functions for the power takeoff, all-wheel drive and differential lock. The activation of automatic functions and other operating steps are easy to understand and intuitive to access for different drivers. Combined with the new Dana parallelogram sprung front axle, these features provide a new level of driving comfort and operating comfort which is ensured by the vibration damping on the front and rear lifting gear, even when lifting heavy implements.
Engine technology and CLAAS Power Management CPM
Power rating
(kW/HP)
Max. power (KW/HP)
Boost power (max.)
AXION 810
120 / 163
128 / 174
-
AXION 820
135 / 183
142 / 193
-
AXION 830
144 / 196
154 / 209
-
AXION 840
151 / 205
155 / 210
177 / 240
AXION 850
165 / 225
169 / 230
191 / 260
Performance data according to ECE R24
The new DPS 6.8 litre six-cylinder engines offer a power rating of 163 to 225 hp (120 to 165 kW according to ECE R24) and operate with a charge-air cooler, cooled emission return flow, Common Rail injection system and four-valve technology. The engine technology used not only meets the TIER 3 emission standard, but also reduces fuel consumption compared to TIER 2 technology.
CLAAS Power Management, a standard feature of the AXION 840 and AXION 850, provides additional performance: The unique boost design releases additional power
if the hydraulic power is decreased
if the power takeoff is switched on
or if the tractor is in transmission group C or D (C1=~8 km/h at 1,900 rpm).
A sensor measures the power required from the power takeoff or hydraulic system and depending on the decrease in power, the system releases additional boost power in six stages up to 30 hp (22 kW). For the majority of applications, including soil cultivation, the AXION 850 can provide up to 260 hp maximum power at speeds of 8 km/h and upwards.
Multifunction armrest and CEBIS
The layout of functions on the multifunction armrest has been optimised for the driver in collaboration with professionals and experts alike. The most important operating element on the multifunction armrest is the DRIVESTICK, which operates the HEXASHIFT transmission. In addition to the maximum five electrical spool valves provided on the multifunction armrest, it also offers a manual accelerator and electronic engine speed recorder. Moreover, it also houses the controls for the front and rear three-point linkage and headland management system. Even the HEXACTIV function, which offers automatic shifting for the HEXASHIFT transmission, can be activated from the armrest.
The CEBIS terminal, already used on the LEXION and XERION, is also fitted on the AXION. Two different display modes, which are optimised for field or road, show all of the important operating states for field operation or on-road transport at a glance. A turn/push regulator and simply one other key provide intuitive access to all menus and settings. An additional key for the DIRECT ACCESS function enables direct access to submenus when the corresponding functions, such as spool valves, are activated. The headland management function provided in CLAAS Sequence Management simply records and plays back operating steps that are performed repeatedly on headlands. These recorded operating sequences can subsequently be modified in the CEBIS TERMINAL.
Two transmission variants
The AXION is equipped with the convenient HEXASHIFT transmission with six Powershift gears and four automated ranges, which can be shifted without operating the clutch. In addition to improved efficiency, CLAAS engineers have also developed the DRIVESTICK, a new and very comfortable operating concept. Range changes and Powershift shifting operations can all be carried out automatically. The CEBIS terminal offers new setting functions for the HEXASHIFT transmission, such as the variable engine speed setting for shifting times with the automatic HEXACTIV function. A creep gear is also available for minimal driving speeds. A variable power-distributed transmission variant is also planned for the future and is due to be launched at Agritechnica 2007. Like the HEXASHIFT variants, the CVT transmission will also be available in speed-reduced 40 km/h and 50 km/h variants (depending on country).
Hydraulic system and power takeoff
Times and flow rate can be conveniently regulated for up to five electrical spool valves via the proportional switch in the multifunction armrest and the ELECTROPILOT joystick. Both rear wings are fitted with external spool valve controls for convenience when mounting implements. The performance of the hydraulic system is supported by CLAAS Power Management, which releases additional engine power when the hydraulic power decreases. In addition to the rear power takeoff (540/540E/1000/power takeoff) the AXION is also available with a factory-fitted front power takeoff (1,000 rpm). At headlands, the driver is supported when working with the power takeoff by the automatic activation/deactivation function which adjusts to the linkage height. Even when working with the power takeoff you can be sure of up to 30 hp additional engine power with CPM.
Dimensions
With a net weight starting at just 7.1 tonnes (i.e. maximum 33 kg/hp or 46 kg/kW), the AXION is bound to become a new favourite for lighter work with low fuel consumption and reduced ground compaction. At the same time, the AXION offers a high gross vehicle weight of up to 14 t on the top of the range AXION 850, giving a payload of six tonnes for heavy implements or heavy drawbar loads. For applications that demand high tractive power, flexible ballasting options of up to 2.9 tonnes are available thanks to a maximum 700 kg additional wheel weight on each rear wheel. Above all, the new fully integrated front linkage on this new series makes it both compact and agile. In spite of its large wheelbase of 2.98 m, the AXION is only 5.02 m long (without front weights) with a turning radius of just 5.1 m.
Front and rear three-point linkage
As part of the overall concept of the AXION series, CLAAS offers a compact factory-fitted, fully integrated front linkage and front power takeoff. With up to 5.4 tonnes lifting capacity, the front linkage is ideal for operating even the heaviest of front-mounted implements. Electric and hydraulic couplers and their control elements are also fully integrated into the front linkage. Thanks to the high lifting capacity of the rear linkage the AXION can be used for an even wider variety of applications. It offers a maximum lifting capacity of more than 10 tonnes and more than 6 tonnes continuous lifting capacity 610 mm behind the coupling points, permitting the attachment of even heavy implements.
Maintenance
The one-piece bonnet and folding radiator offer easy access for repetitive maintenance tasks. Four parallel CAN bus systems not only reduce the length of cable used in the AXION, but also make servicing and diagnostics quicker and easier. The CEBIS terminal informs the driver when the next service is due to ensure max

Claas Lexion - Harvesting that's gentle on the field


Claas Variant - New series of variable round balers


Claas Quadrant 3400 - A new dimension in large balers


The CLAAS Rollant round baler turns 30