07/11/06

NSA North Sheep 2007, the National Sheep Association northern region's biennial one day event has announced its major sponsor, George F. White, the North East-based rural property specialist.

Right, NSA North Sheep 2007 chairman, Hans Pörksen with major sponsor, George F White's Andrew Entwistle from the company's Wolsingham office.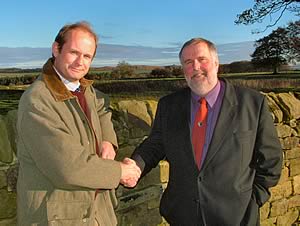 The event which will be staged on Wednesday, 6 June is at North Hanging Wells, Eastgate, Bishop Auckland by kind permission of Messrs M W Skidmore, is the 15th technical event of its kind and will be building on its previous success with a crowd of more than 8,000 and 200 trade stands.

George F. White partner, Andrew Entwistle comments: "We are delighted to be able to support such a practical event that is run specifically for the farming industry. Our company's roots are with the region and NSA North Sheep 2007 provides the perfect opportunity to support and meet with people who are at the very heart of our business."
Notes
George F White has more than 25 years of experience in the North East. It is one of the longest established independent firms of Chartered Surveyors in the region, with offices in Alnwick, Wolsingham, Bedale and the Tyne Valley. The company has a core base in rural farming and offers a comprehensive range of professional services, from land managements to livestock sales. To help farmers and the rural community with current issues it has gone to great lengths to establish a large team of qualified personnel with specialist skills.

North Sheep 2007 to be staged in County Durham


Countryside Live - Another Record Breaker


NSA Sheep 2006 to feature dogs, shearers and fencing contractors