19/09/06
A 700-mile round trip to the National Aberdeen Angus Show in Cumbria paid off for north of Scotland breeder Hamish Sclater when he lifted the supreme championship.
Ron McHattie - Chief Executive, AACS,
Lucy Husband - Account Manager for Costco, AKS Ltd,
Barry Young - Judge, Hamish Sclater.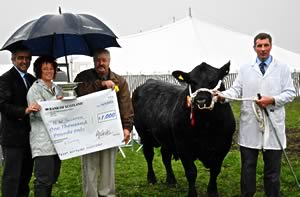 Mr Sclater, who had made the journey from Turriff with his father Bill was able to break the news to his wife Margaret, who works full time, and his mother Mary back home in Scotland then he went on to win the interbreed native beef award at the Westmorland County Show which hosted the national Angus event for the second year running.
Increased interest in the Angus breed across the UK backed by calf registrations doubling in the last decade led to a boost in entries for the national show with a total of 81 cattle compared with 63 in 2005.
The Angus judge Canadian Barry Young on his UK judging debut braved day long virtual torrential rain – no rain has fallen at his home in Saskatchewan since June - at Crooklands, Kendal and selected his supreme champion and male champion was the 17 month old bull Deveron Kankara E146.
His reserve overall champion was his female champion the three year old cow with calf at foot, Cragg Majestic Martina C027 shown by Julia Swires, of Cragg House Farm, Wilshill, Harrogate.
Mr Young, who runs 150 pedigree Angus cows in his Youngdale herd which was established in the early 1970s, said of his choices: "The bull has a lot of future. He shows character and is lean at the front with clean muscle and is well balanced.
"He is the type of bull which would sire my reserve champion. She is an excellent cow with exceptional female attributes, quality and balance."
It was the best show success yet in the 10 years since Mr Sclater established his Deveron herd at the mainly arable unit, Denhead Farms, Dunlugas, Turriff.
As well as winning three other classes, he was presented with the top prize award of £1,000, plus the Certified Aberdeen Angus Beef Trophy by Lucy Husband on behalf of Costco and their Aberdeen Angus beef supplier AK Stoddart.
The April 2005 born bull was sired by Whitfield Jester Eric, sold to Mr Sclater by Northumberland breeder John Rutherford, of Whitfield, Hexham, for 3,000gns, the top price at the Carlisle October 2003 sale.
Kankara is among the first of a successful crop of calves by Jester Eric which has a beef value of 30 putting him in the top two per cent for the breed and his eye muscle score places him in the top one per cent.
The champion's dam is the first daughter of the Irish-bred bull Giggintown Toy Boy to produce a calf.
"This is our best success to date and it's just by chance of how the calendar falls that we were able to attend the show this year," said Hamish Sclater.
"Because we have 400 acres of arable crops we are usually harvesting during the first week in September but with the Westmorland Show being held on September 14 – the latest date in the month it is held – that allowed us to get here," he added.
"In the past we have won the McRobert Trophy for the best group of three at the Royal Highland Show and twice we have won the championship at the biggest Angus calf show in the UK, the Black Beauty Bonanza Calf Show in Inverurie."
Mr Sclater plans to sell Kankara at the Perth February Angus sale.
Mr Sclater also won the exhibitor-bred trophy and the group of three animals owned by the exhibitor, as well as one of the yearling heifer and heifer calf classes.
Equally delighted with her reserve championship success was accountant Julia Swires, who runs the Cragg herd which totals 15 animals with help from her father Don, a retired insurance broker, and her mother Jane on 50 acres at 650ft above sea level in Nidderdale, Yorkshire. The herd dates back to 1976.
The April 2003 born cow Majestic Martina by Rawburn Transformer weighed 540kg at 400 days and is from one of the herd's original cow families.
"She has been very much admired," said a delighted Julia. "She is a very feminine cow. I'm very pleased that she caught the judge's eye."
Her heifer calf at the time of the show at eight months old weighed 340kg. The calf, Cragg Majestic Marcella D042 is by Netherton Fabulous Cruz and was placed fourth in her class.
Reserve male champion was from TA and P Johnson of Clarence House Farm, Yearsley, Brandsby, York with their January 2006 born bull calf Yearsley Maistro Boy F056 by Rawburn Eric Star.
Reserve female championship went to Andrew J Brown, of Hawstead Lodge Farm, Pinfold End, Bury St Edmonds, Suffolk with Hawstead Lodge Pamela E042 by Blelack Blackberet A241 which also won her yearling heifer class.
Prize List
Two year old bull – Mrs C Fletcher's Barwise Meridian D144.
Yearling bull – 1 HW Sclater's Deveron Kankara E146; 2 J and W Arnott's Haymount Wavacca; 3 Andrew J Brown's Hawstead Lodge Eurevine.
Senior cow – Stuart Addison's Castlegate Barbara Z021; 2 Mrs C Fletcher's (no 277); 3 J and V Brooks' Bon Lea Rosebell.
Three year old cow – 1 Mrs JB Swires's Cragg Majestic Martina C027; 2 D K Jeary's Briston Echo C024; 3 Tom Rennie's Mosston Muir Jennifer.
Two year old heifer – 1 Alistair Clark's Duncanziemere Jodie D147; 2 TA and P Johnson's Yearsley Prunella D042; 3 HW Sclater's Deveron Kleo D130.
Yearling heifer – 1 Andrew J Brown's Hawstead Lodge Pamela E042; 2 C S Page's Foolness Erinn E040; 3 TA and P Johnson's Yearsley Pru E045.
Yearling heifer (class 2) – 1 HW Sclater's Deveron Black Thorn Pelaree E89; 2 Mr and Mrs R Tuke's Hardiesmill Edessa E146; 3 J and V Brooks' Bon Lea Elegance.
Group of three – HW Sclater; 2 Andrew J Brown; 3 Tom Rennie.
Bull calf – 1 TA and P Johnson's Yearsley Maistro Boy F056; 2 J and W Arnott's Haymount Wavuzzo; 3 J Robert Galloway's Cardona Punch.
Heifer calf – 1 HW Sclater's Deveron Elize F159; 2 Mrs JB Swires' Cragg Millicent Belle D041; 3 Stuart Addison's Castlegate Baroness F014.

National Aberdeen-Angus Show Returns To Westmorland


Sale Of Elite Aberdeen-Angus Females Attracts Top Bids


Limousin 'Genetic Package' Heads For Poland