24/03/06
Horticulturists in the North West now have a voice on the NFU's national horticulture board.
Sarah Fairhurst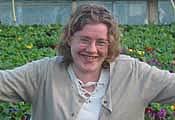 Sarah Fairhurst, 28, a pot and bedding plant grower from Formby near Liverpool, is the NFU's North West horticulture board chairman. She has been selected to sit on the national horticulture board which currently has 11 members.
The NFU's national horticulture board selects its representatives depending on their levels of experience, expertise and enthusiasm - so Sarah
is delighted that she has been chosen. She becomes the first person from the North West of England to sit on the board.
Sarah said: "I'm looking forward to the challenge. At the first meeting I attended we discussed issues including the levy boards, supply chains, public procurement, climate change and polytunnels so there's a lot for me to get my teeth into."
Sarah started working for Porters Horticultural Ltd in Merseyside in 1999 as a modern apprentice. Porters is a family run business which employs 27 full time staff and produces pot and bedding plants, mainly for the multiples.
Her role within the business is to maintain the management standards currently in place including health and safety and human resource issues.
Sarah has been chair of the NFU North West horticulture board for the past two years. She also sits on the BBPA (British Bedding and Pot Plant Association) technical committee and as part of that role has a particular interest in driving forward work on nursery hygiene.
The next national NFU horticulture board meeting will take place on Tuesday 16 May. Any North West horticulturists who'd like to highlight a problem or concern that they believe needs discussing at this board meeting, should contact Sarah Fairhurst via the NFU's regional office on 01695 554900.

Eight immediate policy priorities for new NFU


New Cumbrian County Chairman For NFU


Young Cumbrian farmers to quiz NFU president