New Regional Office For CLA North
11/01/06
The CLA has relocated its North Regional Office in a move which it says demonstrates the organisation's support for the agricultural industry.
Douglas Chalmers - Regional Director - North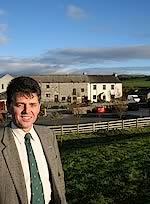 The new Regional Office is based at Lane Farm, home of the Westmorland County Agricultural Society, and heart of the proposed South Lakes Gateway Project - a multi-million pound agriculture and tourism gateway off Junction 36 of the M6.
The office will be the base for the CLA's regional team who will deliver member support and lobbying service for the north west and supported by its office nr Alnwick, the north east.
Douglas Chalmers, Director CLA North said: "This is an exciting move for the CLA, at a time when the influence of organisations such as ours is much needed by rural businesses. Agriculture is getting to grips with constant reform and change, and rural businesses in general are facing increasing costs, problems with infrastructure and a shortage of affordable housing for their staff. That we decided to relocate to this hub of agriculture and rural business is no co-incidence. Members will find us easier to visit, we have good access to the national road and rail networks, and we already have like-minded organisations on the same site, with hopefully, more to follow.
The office is at Lane Farmhouse, next door to the WCAS headquarters, and the CLA says that it will welcome visitors, Members or those who simply want to find out more about the premier organisation dedicated to safeguarding the interests of those responsible for land, property and business throughout rural England and Wales.

Tis the season to be Jolly - But do you know whence came your Holly?


Police and CLA Blast Government's Wildlife Inspectors Plan


Don't Destroy Rainforests To Grow Biofuels Warns CLA