10/11/05
Andrew Addison (left) and herdsman John Trevakis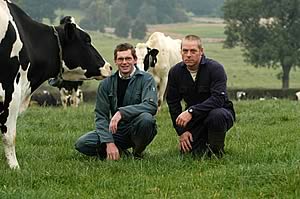 The Addison family from Spittalls Farm, Low Moor, Penrith, Cumbria has made it through to the final of the prestigious National Grassland Management Competition. Run annually by the British Grassland Society, it is sponsored this year by farm supply companies DLF Trifolium and Kemira GrowHow.

The contest sets out to find the livestock farmer who best demonstrates excellence in the management of grass and forage crops, leading to profitable and high quality production, whilst taking care of the land.

During the summer, competitions took place across the UK and seven regional finalists were selected. From these a short list of three, including the Addisons, was drawn up by a panel of expert judges to compete for the national title.

Spittals Farm lies in the Eden Valley east of Penrith. The 163 hectares (400 acres) is split by the busy A66. The system is evolving from a mixed farm to an expanding dairy unit with currently 182 cows. The animals graze the fields close to the buildings, while arable crops such as wheat, barley and peas are grown across the road for feeding to the cows or selling off the farm.

The aim is to have 200 high yielding cows, producing high quality milk from as much home-grown feed as possible.

The Addison's have invested in a new milking parlour and comfortable winter housing for the cows. One redundant stable block is now being converted into a conference centre.

Care for the environment is a high priority – old hedges are being maintained and new ones planted, and a pond is being restored. The farm will join the new ELS environmental stewardship scheme, which encourages nature conservation. The family is also considering joining LEAF, an organisation which champions farming techniques that enhance the countryside.

"There is great team effort on this farm," said dairy farming scientist Dr Dave Roberts, who chaired the BGS judging panel.

"The family and their employees have a clear idea of what they are doing now, and where they want to be in the future. All are clearly motivated by the work they do, and are also aware of the challenges and opportunities they face. Congratulations to everyone at Spittalls Farm for reaching the final."

The Final

The climax of the competition comes at the BGS Winter Road Show 'Making Grass Pay', to be held at Greenmount College, Antrim, on November 25.

The three finalists will make a short presentation about their farms, to an audience of farmers, advisors and researchers. The winner will then be awarded the coveted Kemira Trophy and a cheque for £500.

Strike the right dietary balance to avoid SARA


New MDC Officer for Eastern England