04/10/05

Milking 300 pedigree Holsteins plus running a further 250 head of young stock, father and son Geoff and Ian Wilson want to keep herd management as easy as possible.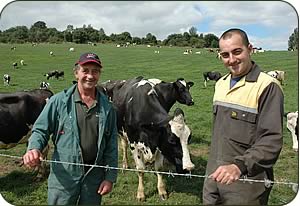 Geoff and Ian Wilson
Their 510-acre Low Field, Appleby, Cumbria is typical of the good grass-growing farms in the Eden Valley and the need for flexibility in the use of homegrown feed inputs is critical to efficient milk production and herd health.
In November 2004 the Wilsons invested in a Kuhn twin vertical auger Euromix 2070 diet feeder with a 20 cubic metre capacity and they are already seeing the benefits in both time as well as herd health and cow intakes.
Geoff and Marjorie Wilson have been running the pedigree Snow herd at Low Field for the past 28 years - it was established more than 50 years ago by Geoff's late father John at Snow Hill, near Caldbeck.
Their eldest son Mark began farming in his own right at Ormside, near Appleby in March 2003, taking with him some of the Snow females to start his own Hailstone herd.
Their youngest son Richard runs a flock of 250 pedigree Texels on his own land; these are also used to clean up the grassland at Low Field and daughter Hannah owns some of the cows in the herd.
Now Geoff and Ian run the Snow herd together with numbers having been built up to current levels.
The feeding regime for the dairy herd changed in December 2003 with the installation of a new parlour.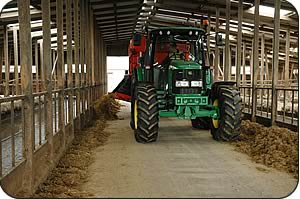 Diet feeder in operation
Cows had previously been fed in the parlour and now they are fed a complete mix through the diet feeder once a day.
"The cows are out at grass during the day from the end of April and are housed from the end of September-early October, depending on the weather, but we are feeding them all the year round with the complete diet mix with the cows split into two groups; high yielders, and low yielders with dry cows," said Geoff Wilson.
"With only the two of us looking after the cows it is easier for us to mix one big lot of feed once a day.
"Our previous feeder was too small - even though we were only feeding a third of the concentrate through the ration we were having to mix six loads a day taking up to three hours - now we can feed up to 160 cows with one load. We can feed 300 cattle, mixing and unloading the ration, in one and a half hours.
Typical first cut silage taken on around May 20 has a 30 per cent dry matter, crude protein of around 16, D value of 75 and ME of 12 MJ/kg.
"We vary the ration according to yield. The herd is averaging 8,600 litres. We're not pushing the cows hard - we could get more from them but we want to get a balance between yield and cow health which we see as most important and we're trying to take a lot from the land.
"Previously, our average yield was 9,500 litres and we do want to improve on our current figure but we don't want to sacrifice cow health and this new system is so easy for us even though we now have more cows.
"During the summer our clamp silage can be too good for the cows so we like to be able to be able to mix in big square straw bales and big round bales which we take from grazed fields when there is a surplus of grass.
"The Euromix chops long fibres as in round bales to whatever length is required down to an inch long - we usually chop to three inches - and it handles a full bale without us having any worries about it choking itself.
"It mixes all feeds well to the point where the cattle can not be selective in what they eat from the ration."
The ration comprises different ratios of first and second cut clamp silage, round bale silage, large square straw bales, and off the farm's 150 acres of arable ground, barley and wheat and wholecrop wheat. Maize silage has also been included in previous years.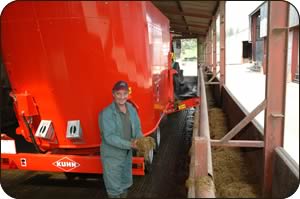 Kuhn twin vertical auger Euromix 2070 diet feeder
Last autumn's ration was based on first cut grass silage, home grown wheat and triticale grain and a balancing meal. The summer ration for the high yielders was triticale, meal and molasses.
Veterinary nutrition consultant Richard Vecqueray said the first cut silage was typical of the 2004 season in that it was taken early and was subsequently very soft, lacking physically effective fibre but very dense in soluble protein and energy.
"To prevent twisted stomachs and other effects associated with sub clinical acidosis we decided to incorporate a limited quantity of straw into the ration," he said.
"The cows sorted out unchopped straw from the previous TMR so the laborious process of putting it through a bale chopper was undertaken. The arrival of the new feeder meant this could be done in the same operation as feeding on a daily basis."
Improvements in yields and cow health were almost immediate after the Euromix was put into use.
Geoff Wilson said: "The cows were suffering because they weren't getting enough roughage. Yields had gone down and the cows had health problems. However the herd began to pick up the month after we bought the feeder.
"Although our yields are not as high as when we were feeding in the parlour the cows have a more level production throughout the lactation. Our butterfats at 4.22 per cent are the best they have ever been with proteins running at between 3.2 and 3.35 per cent.
"General cow health has improved. We used to have quite a number of cases of ulcers and laminitis, now we have very few. Also incidence of displaced stomachs has been reduced. Intakes have increased - we saw this even with the demonstrator model we had.
With the feeder's larger size cutting down on the number of daily mixes there was more time to make a special mix for the dry cows which helped prevent milk fevers and reduce the incidence of endometritis (dirty cows). Subsequently cow health through the winter housing period was excellent.
The Wilsons have found that the Kuhn feeder is robust and the machine's chopping blades are still very sharp even after more than six months' of daily use.
It is easy to operate as was proved when Ian went on holiday and he handed over the operation to a neighbour who only needed about 15 minutes instruction on how to use the machine.
Another benefit with the machine is its adjustable elevator, which delivers the mix to troughs in one of the cattle sheds and onto the ground in another.
© Copyright 2005 Jennifer MacKenzie All Rights Reserved.