Adam and Ruth Greenhalgh with daughter Molly and young pedigree Bazadaise bulls at Heggerscale.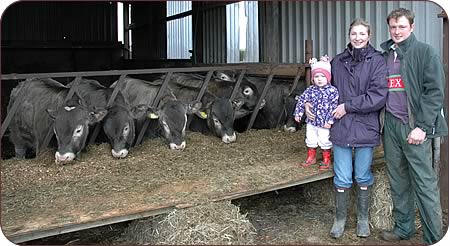 A holiday in France set the Greenhalgh family on their new beef venture in the foothills of the Pennines in Cumbria.
Adam Greenhalgh and his wife Ruth were spending a holiday with Adam's father Stephen in south West France where he has a home when they spotted the region's native Bazadaise cattle and were quick to take note of the breed's attributes.
Almost two years ago Adam and Ruth, who works part-time, began the process of establishing their own pedigree Bazadaise herd with maiden heifers at their severely disadvantaged hill farm, Heggerscale, Kaber, near Kirkby Stephen.
Originally from Lancashire, the family has farmed at Heggerscale for 17 years, latterly Stephen spending several months each year in France using his skills as a builder to renovate a house and buildings.
Before foot and mouth in 2001 the Greenhalghs ran a herd of 20 pedigree Limousins and 15 crossbreds on 125 acres along with a flock of 420 Swaledales with stints on the nearby Kaber fell.
Of the flock, 120 Swaledales are bred pure with 150 crossed with the Bluefaced Leicester for Mule lamb production, selling through Kirkby Stephen Mart. There are a further 150 Texel cross and Mule ewes which are put to the Texel which are finished off grass on the farm.
They have since taken the opportunity to increase the acreage to 300 acres with the purchase of extra neighbouring land and now the entire ring-fenced farm includes 70 acres of what had been unfertilised land entered in the Countryside Stewardship Scheme for the last three years.
Through the scheme they have restored 500 metres of walling – half of what is required – as well as thousands of metres of fencing and hedgerow planting, re-instating all of the farm's field boundaries.
The re-stocked beef herd numbers 65 suckler cows which calve from the third week in March through to the end of May, all to the Bazadaise. The herd includes 20 pedigree Heggerscale Bazadaise cows – mostly bought as heifers from breed society chairman Roy Gostling, of Norfolk - with the remainder mainly Belgian Blue crosses.
The intention is to be able to sell eight to 10 pedigree bulls a year – one two year old bull sold recently for £2,000 off the farm which Adam Greenhalgh is happy with considering there was no necessity to halter train the bull and it received no extra feed unlike preparations for a sale ring.
All the crossbred calves are sold through Kirkby Stephen Mart at 10 to 12 months old, having until now claimed the first beef premium payment.
"Farmers, who generally are reluctant to change breeds because of the demands of the marketplace, are starting to notice when I take cross-bred calves to Kirkby Stephen" said Adam.
Bazadaise cross heifers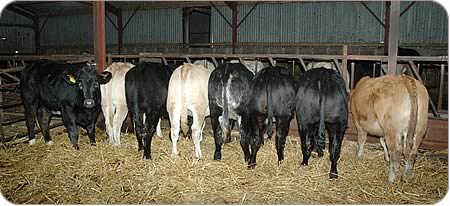 "The Bazadaise, which has double muscling, crosses well on most breeds but it gives a particularly good calf on the Belgian Blue. However pure-bred cattle are very beefy. One bull we had kept as a potential breeder we sold finished at 20 months old and he classified E3 and made £900."
Ten month old bullocks have sold to £675 through Kirkby Stephen while a 14 month old heifer made £740, the sale's third top price. The crossbred cattle are sold from mid January through to May.
"They are easy calving, which is a big plus. Out of the 65 cows calved we only lost one set of twins which was through no one's fault. I think that was pretty good. The cows are brilliant mothers and they are very quiet which is worth a lot.
"We wanted to breed cattle which were not in over-supply. The last two bulls we have sold at 13 months old when they were not yet ready to work and there seems to be demand for more.
"Because there is not a vast genetic pool of the breed in the UK we wanted to start the herd with the best we could get so we have imported a bull from France," said Adam.
The bull, Oscar, now six years old, had an unbeaten show record in France and was spotted at the Bordeaux Show by Stephen. Adam and Ruth liked what they saw of him on a video and wasted no time in going to France to buy him.
Oscar helped showcase the Bazadaise breed at Penrith Show in 2004. Although there were no classes for showing, Oscar was paraded in the main ring and other Cumbrian breeders Richard Carruthers, of Bampton, displayed young bulls along with crossbred calves from Les Grainger, of Eamont Bridge, Penrith, on a stand at the event.
Oscar is now at Lindsays AI, near Carlisle, and the Greenhalghs are planning to sell semen both in the UK and for export worldwide, with the exception of America.
The 20 pedigrees and half the commercial cows are in calf to the prolific French bred bull.
The plan is to increase the pedigree herd to 40-plus cows and to sell pedigree heifers, for which there is also a big demand as well as for the bulls, although a percentage of commercial cattle will be kept which helps to market the Bazadaise' commercial attributes.
"We have seen a number of pedigree herds in France and we liked the conformation and length of the cattle as well as their easy calving and longevity.
"We saw one herd where the ages of the cows ranged from first and second calvers to 15 year old cows which you couldn't tell apart from the younger ones. The breed is also very hardy with herds being run up into the Pyrenees," said Adam, whose land at Heggerscale runs from 900 to 1,000ft above sea level.
Heggerscale is a wet farm with clay land and the medium sized cattle do not churn up the fields yet still have the ability to produce a good calf.
Winters are long and cattle are cubicle-housed from mid October through to the beginning of May, mostly calving inside. They are fed clamp silage with first cut off 70 acres and second cut off 45 acres and after calving receive mineral supplement.
The pure bred calves are creep fed from July. The cows are grazed in two lots, rotated around six fields until they eat it off so that they always have fresh grass in front of them which helps with calf growth.
"The Bazadaise cattle have lived up to our expectations and I am very critical about my cattle," he added.
As a preventative measure, all the cattle are vaccinated against leptospirosis and BVD and eventually the herd will be closed.
© Copyright 2005 Jennifer MacKenzie All Rights Reserved.