| | |
| --- | --- |
| 2015-09-17 | |
Crop Market Update from Gleadell
With some 10 – 15% on the UK wheat crop still to be harvested, and likely to be of feed quality, the market dynamics remain one of more supply than demand.
Feed Wheat
As expected the USDA trimmed US corn yield, production and ending stocks, projecting global stocks down 5mln t – whilst this initially gave the market some support, the fact global wheat stocks were increased by a similar volume limited any upside potential. The monthly report continues to show that US farmers seem to have been 'prevented' in planting the projected area, for most crops, which in turn could result in the USDA trimming their acreage estimates in future releases. We await clarification of any changes, if any, to the Russian export tax system, and latest estimates of the Australian wheat crop put the crop up over 25mln t, despite what is reported to be the strongest El Nino since 1997/98s. Monsoon rains in India, which are seen critical to summer grain production, are lower than average and the driest since 2009, when India had its worst drought in 30 years – maybe one to watch?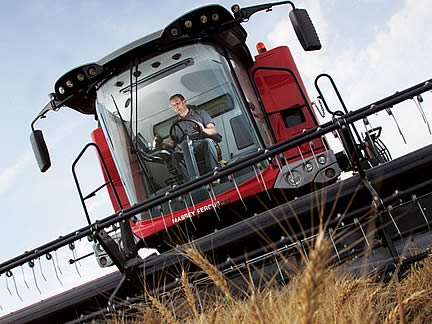 EU crops are increasing, export demand remains slow and the MATIF stores are still closed for intake. Both in France and Germany the lack of export business is becoming a major concern, with the likelihood of increased volumes of milling wheat being sold into domestic feed demand. Any export demand is predominantly being lost to the Black sea, and with both crop and export projection being increased for Russia and the Ukraine, EU prices will need to be competitive to compete.
With some 10 – 15% on the UK wheat crop still to be harvested, and likely to be of feed quality, the market dynamics remain one of more supply than demand. The pressure exerted by an oversupply of wheat during the harvest period now seems to be prolonging itself into the October position, as delivered values reflect the current over supply situation. The erosion of the forward premium is likely to continue, as the UK needs to become more competitive in order to shift any sizable part of our surplus.
Malting Barley
UK markets are predominantly for the deferred months while spot demand is virtually non-existent.
Supply continues to outstrip demand as yields for this year have been reported above the five year average, adding to the big carry over from last year.
Scotland are 65% through the spring barley and apart from some issues with skinned grains reports are generally good.
Feed Barley
Barley values in the nearby have remained largely unchanged over the past week however, slightly higher values have been indicated for November onwards.
Consumers continue to take cover against feed sales as well as buying top up tonnage.
Slow feed sales and weaker grain markets keep buyers out of the market.
Last week's USDA raised barley production in Russia and the Ukraine by almost 3Mmt.
The true impact of the Black Sea production increase will remain uncertain until some clarification is found on Chinese and North African demand.
Rapeseed
USDA revised higher its estimation of the US soybean yield and crop in last week's report, to the surprise of the market. However a recent release shows the prevented acreage (soybeans) higher than previously estimated, leaving analysts expecting that the USDA will start trimming its acreage forecast in future monthly reports.
Brazilian soybean estimates were left unchanged, but with the local currency hitting its lowest level since 2002, plantings could increase significantly for the 2015/16 season, with the potential of a record 100mln t crop already being talked.
Focus will remain on what appears to be daily US yield forecasts and the FSA report, and its potential impact upon final production numbers. With the Chinese due to visit the US next week, the market will also gauge if any 'deals' materialise, especially after the recent Chinese financial concerns.
MATIF rapeseed closed on a four-week high, closing slightly above what had been termed a 'key resistance' level of €367/t, but any significant uplift in UK rapeseed prices have been capped by the firm £/Euro exchange rates.

Oats
We are now seeing later cut oat samples in England which have suffered in the relentless rain.
These samples have lower bushel weights and have lost their bright colour.
Growers are generally not supplying the market until an above market price twists a parcel out.
Export markets along the south coast continue to attract tonnage.
Pulses
Yield reports for both winter and spring varieties remain average to better but there has been a noticeable decline in quality this week with approximately 40% of samples meeting the human consumption standard. There is an obvious split between the north and the south with the north on the whole being the better quality material. Whilst this is mildly supportive for human consumption market, it is bearish for feed. With limited demand, there is a question mark over where all the feed beans will go. As a result, we have seen a further decline in feed values.
The market for large blue peas remains heavily oversupplied against demand and this continues to put pressure on prices. We have a Gregor buyback available. Please contact your Farm Trader if interested.
Seed
Oilseed rape is still available for growers looking for quick delivery across a number of varieties for top ups as drilling continues. Hybrid variety Incentive has remained popular throughout the season as well as Campus for conventional growers.
This year we have been seeing some high TGW's which may result in some growers running short on tonnage. Consequently we would urge growers to confirm their areas on farm to ensure they have adequate seed for their drilling requirements.
New winter wheat variety Reflection was added to the Recommended list this year with the highest treated yield across the UK at 107. It's high yield potential is backed up by a number of other strengths such as short stiff straw, strong disease resistance and excellent grain quality. By offering growers earlier maturity than its competitors it will help growers to spread their workload.
For second wheat growers Jockey and Latitude seed treatments are available. Both treatments aid root development and reduce the risk of take-all.
Winter bean variety Tundra is sure to be popular with growers due to its substantial yield increase over the current market leader. Tundra is 9% higher yielding than Wizard and has good agronomics including short straw and good standing ability. Due to this significant yield benefit it is likely that supply will not meet demand therefore we would urge growers to cover their requirements.
Fertiliser
Urea
Last week 3 mln tonnes were offered into the latest STC Indian tender as China accepted lower prices to secure around 50% of the business.
Egyptian production has resumed albeit slowly and so to date there are no sales reported either domestically or for the export market.
Demand in the UK remains slow but with less than 50% of the expected market demand covered, a busy period is forecast once Autumn drillings are complete.
Urea prices are at historically low prices, much cheaper than where many bought their requirements last year and on a £/kg basis offer an excellent buy.
Ammonium Nitrate
Across Europe AN remains tight as demand is picking up and producers catch up with back shipments after annual downtime.
Demand in the UK today remains flat with product in store, so prices have been held at current levels to tempt buyers to take tonnes in the nearby position.
GrowHow are catching up on their Aug/Sept deliveries and will be targeting new business as we enter October.
PK
Replacing soil nutrients after harvest is essential, especially in a year where good yields are being reported and some growers are trying to maximise margins by selling or utilising straw elsewhere instead of returning this organic matter back into the seed bed.
A typical winter wheat crop removes 8.4kg/t of phosphate (P2O5) and 10.4kg/t of Potash (K2O) (Source: RB209 Fertiliser Manual) and replacing these nutrients should be high on the list for all farmers this autumn as it is far more cost effective to apply and maintain indices rather than trying to rebuild levels once they have been allowed to slip.
Gleadell supply GrowHow NPK, PK blends; plus cost effective options such as Fibrophos and P-Grow. Blenders are hungry for business and now is a great time to purchase your fertiliser, so for more info please contact your local Gleadell farm trader or call the fertiliser department on 01427 421237.