| | |
| --- | --- |
| 2015-09-10 | |
Crop Market Update from Gleadell
The UK wheat harvest has rumbled onwards this week with some deterioration, especially in Hagbergs, being seen.
Feed Wheat
We await this Friday's USDA report with interest. Early reports from the US Corn harvest suggest yields are lower than expectations, but it is early days and the numbers published by the USDA will be what the market reacts to. We are awaiting news of any potential changes to Russia's export tax. There are some rumours that the rules could be relaxed, simplified or even removed. El Nino doesn't appear, to date, to be having the devastating effect on Australian crops that pundits predicted. However the next 6 weeks are crucial.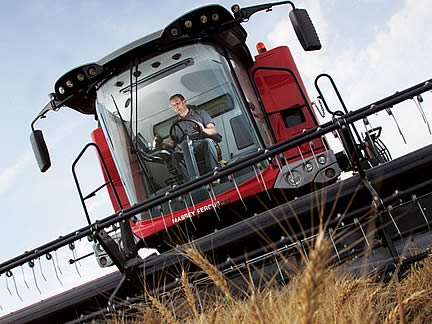 EU crop estimates are getting bigger, with France reporting a record crop of 40.7 mln mt. Farmer retention is the name of the game across most of the EU as farmers and co-ops stash large crops into any available storage space to avoid taking current prices. The fundamentals (supply and demand) of the market don't support this as a sensible marketing strategy and relies on the 'something will turn up' factor to see it pay off. Whilst this is happening international tenders are being captured by Black Sea and Russian supplies.
The UK wheat harvest has rumbled onwards this week with some deterioration, especially in Hagbergs, being seen. However we feel enough good quality wheat is in the barn to keep quality premiums at or around current levels. Export / import figures were released for July which showed the UK was a net importer, in July, to the tune of 60,000 mt. New season wheat exports remain difficult, to say the least, and the challenge of removing a part of our surplus is with us for the foreseeable future.
Malting Barley
The UK malting barley market is quiet with very little buying interest and the situation is similar throughout the continent.
The UK has a surplus of good quality malting barley in a market with very limited demand and the strong GBP is not helping UK exports.
Harvest in Denmark is near completion with above expected yields and quality.
Scotland is 50% through the spring barley harvest with good yields and low nitrogen reported so far, but the recent weather has caused some issues of skinned grains.
Feed Barley
The recent stalemate situation in the feed barley market continues.
Consumers continue to hold out for lower prices.
Uncertainty over imports of feed products into China is having a negative impact on both EU feed barley export opportunity and price.
The discount for barley in relation to wheat has reduced in recent weeks, reducing the attractiveness of barley against a variety of feed inputs.
Growers able to store their barley may be in the best position to be able to use opportunities that may arise later in the season.
Milling Wheat
UK milling wheat premiums appear to have found some stability at current levels with very little change from last week; full spec Group 1 and Group 2 premiums remain around £18-20 over feed. Despite the multifarious weather of the last few weeks threatening quality, it appears that the market has decided, in the nearby positions at least, that there are ample supplies of milling quality to meet the millers' requirements. The samples seen over the past week have definitely revealed lower average Hagbergs, however this has by no means been a widespread problem.
The stronger pound since last week has controlled the differential between UK values and German/Baltic imported prices, which currently remains around £12-14. German A (13% protein) premiums remain under pressure and combined with the firmer sterling is offering limited upside for our domestic premiums. UK milling premiums look set to remain at current levels for a little while longer.
Rapeseed
Matif rapeseed has ticked slightly higher over the week with similar small bounces seen in palm oil and canola futures. US soybeans are little changed on the week with harvest underway and a USDA report due tomorrow .The average trade guess is for a small decrease in US soybean yield which will have little effect on current supply and demand dynamics.
In the UK we continue to see a small trickle of seed coming forward from farm as farmers look to facilitate movement and cash flow requirements. Ex farm prices of £250 ex are again achievable pre-xmas.

Oats
Winter oats have now been completed in Scotland and as in England quality and yields have been excellent.
Spring oats in Scotland which account for 80% of the acreage are expected to be started in volume week commencing September 21.
Spring oats in England have not fared as well as the winter crop, with a greater range of quality and yields.
Several vessels have been loaded from the south coast to help with the movement pressure created by the good winter oat yields.
Pulses
Winter and spring beans yields have been good with some spring crops yielding exceptionally well at anything up to 7.7t/ha. On this basis, we expect overall yields to be above average and this to put further downward pressure on prices.
The recent rains do not seem to have affected the quality of the samples we have seen so far, with approximately 50% still meeting human consumption quality. The human consumption buyers have been more active in the market this week but they remain bearish.
The market for large blues is very heavy with supply considerably outweighing domestic demand. However, we are seeing a lot of interest from international buyers which is adding some support to the market.
Seed
So far this week seed enquiries have been high. Growers are still looking for oilseed rape top up deliveries and are starting to finalise their other cropping requirements on farm.
Prompt delivery remains available on a number of oilseed rape varieties. Incentive and Campus have continued to be trusted by growers due to their consistency and yield potential. As well as new varieties Wembley and Windozz. New hybrid candidate Wembley has performed consistently well in trials, has one of the highest autumn vigour scores and sits joint top of the 2012/15 yield mean table with 109 in the AHDB's Winter Oilseed Rape RL trial results for the East and West region. Windozz, another new hybrid, has been topping hybrid trials for 2015 with stable yields. It is an early flowering, early to harvest variety but still offering a high gross output.
The highest yielding winter wheat variety on the Recommended list is Hard Group 4 Variety Reflection. Reflection offers growers earlier maturity than its competitors which allows growers to spread their workload. As well as a strong all round package including yield, short stiff straw, high specific weight and good disease resistance.
Bazooka, a new hybrid barley candidate variety from Syngenta, is sure to be taking yields on to the next level for growers. Its vigorous early root growth and extremely high yields are all contributing towards its popularity.
We have also had enquiries for winter bean variety Tundra. Tundra is pale skinned variety that has good agronomic attributes. This variety is sure to be popular as it is 9% higher yielding than the market leader Wizard, supply will be limited so please cover your requirements sooner rather than later.
As the season moves on there is still an area of uncertainty over some crops due to the recent weather conditions and the effect that this will have had on quality. Final crop outturns are yet to be finalised in some cases which may lead to a movement in prices for growers.
Fertiliser
Granulated Urea
Global markets remain relatively inactive ahead of the Indian tender expected on the 11th September.
Egyptian production problems continue and this will minimise the effect that new plants coming on line will have on the market.
In the UK demand is not forecast to return until late October / November once autumn drillings are complete.
Ammonium Nitrate
GrowHow have held prices at current levels, despite price rises announced by Yara across Europe at the end of last week.
The current price levels remain attractive and may present an opportunity in advance of price increases which will happen once demand returns.
Imported product remains tight across Europe and values have moved upwards, although in the UK with stocks in store prices remain flat.
PK
Both phosphate and potash markets remain firm globally and blenders have increased prices of both straights and PKs.
Markets remain relatively unchanged for both phosphate and potash.
Despite replacement price increases blenders continue to work at below cost of production in order to compete for tonnes in a quiet market.
With high yields being reported, increased offtake of both P and K will be high again this year, so taking a 'PK holiday' to cut input costs is not an option in many cases.
P-Grow – save up to £20/ha on your Phosphate fertiliser
P-Grow (0-23-0) applied at double the rate of TSP provides the same level of phosphate at half the price!!
Spread onto stubbles by experienced contractors now is the ideal time to book your autumn requirements.
Gleadell is offering the chance to win a full load of P-Grow worth over £3000! To find out more speak to your Gleadell Farm Trader or Fertiliser Department on 01427 421 237.