| | |
| --- | --- |
| 2015-04-23 | |
Crop Market Update from Gleadell
Barley plantings throughout key European and Black Sea growing regions are reported to be in good condition aided by favourable weather and timely rainfall.
Feed Wheat
The 'rains fall mainly on the plains' had the expected result, as further rain events across much of the US kept prices in check. Although traders had expected US crop ratings to improve, they were reported constant on the week (with a slight deterioration of the HRW crop offset by improved condition of the SRW crop). A move back below the $5/bushel provided an opportunity for the 'funds' to start trimming their record short position, providing the only support to a market, trading up $3 over the week. Corn plantings were reported at 9% complete, a rise of 6% points on the week, and above the 6% from a year earlier. Although some states are moving towards the end of the 'optimal planting window' talk of a mass switch to soybeans is premature, as current weather conditions are seen as ideal, once the crop gets planted.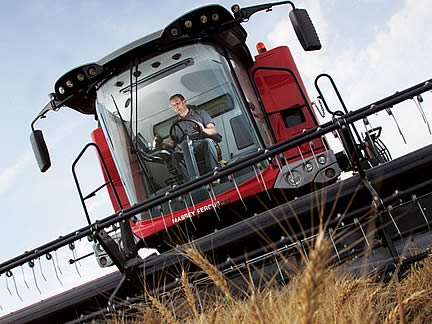 EU prices are trading down €2 on the week, although a stronger euro / US$ exchange translates to unchanged in US$ terms. A better export week saw 741,000t of soft wheat export licences granted, bringing the season-to-date total to 26.4mln t, against 24.3mln t a year earlier. With French vessel line-up down on the week, and weather conditions remaining positive, the market is starting to scratch around for direction, and this was further hindered by the Russian government declaring that no early decision would be made on the status of the export tax, although most trade bodies in Russia (including the Ag minister) would like to see the tax removed as soon as possible.
The UK market continued to weaken, as with prices down £5 on the week futures are back to contract lows not witnessed since last September, when sterling was cruising at $1.62 and the US$ value was $185 ($15 above current values with sterling at $1.50). Market dynamics remain the same – spot buyers, lack of farm selling – all that has changed is that the buyers are now concentrating on May, not April. Seasonal patterns will now project lower cereal demand, at a time when a firming currency and growing inventories will apply more downside pressure on prices.
In summary, new crop international trade will struggle until a firm decision is made on the export tax. Russian intervention should be the theoretical floor to FOB prices, but crop conditions are improving by the day and most exporters are showing a year-on-year increase in stock (especially within the Black Sea region). The likelihood of the tax being removed should bring a flood of grain offers onto the market. With buyers reluctant to extend cover, with the uncertainty overhanging the export tax, any import interest may be met by some-one just looking to off-load, not a great recipe for prices – it is important to remember that Russia exported almost 7mln t of wheat last July-August , and could well do again.
Rapeseed
The MATIF futures market has traded sideways over the last week with little new impetus to move prices. The May15 contract expires 30 April and you would expect European crushers or trade shorts to book remaining coverage/cover shorts in this period. In mainland Europe we continue to see a lack of physical sellers for old and new crop oilseed rape, but prices and premiums aren't being driven higher. The market remains very quiet with no real story to move prices in either direction.
In the UK the old crop market was active early in the week but prices have retreated with volumes coming forward from farm and poor margins for crushers. New crop activity in the UK remains very slow with little coming off farm.
Malting Barley
Old crop buying interest has almost dried up with limited trade shorts and the last remaining export programs being fulfilled.
New crop malting prices have remained stable this week with little traded to both domestic and export markets.
Buyers have stepped back from the market observing the bearish trend of the wider grain markets
The high demand for EU barley exports, notably French barley to China, has limited the weakening of EU malting premiums.
Canadian barley exports have dropped for the 2014/15 season as domestic supplies are tight following a poor quality harvest. Canada's demand for US imports is significantly higher this year and on track for a record 10 year high.
Dutch farmers have begun growing barley intended for the Scotch whisky industry as part of a trial, as distillers look for additional supply to meet strong global demand for their products.
Feed Barley
The old crop feed barley market is quiet with little fresh buying interest.
Barley plantings throughout key European and Black Sea growing regions are reported to be in good condition aided by favourable weather and timely rainfall.
New crop demand remains limited with Black Sea regions offering at competitive levels when buying interest does arise.
The new crop feed barley market remains in a stalemate situation, with little farmer selling and little consumer buying interest.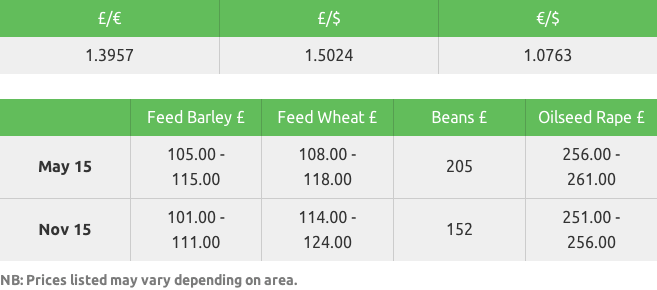 Oats
Old crop markets now move into the June/July delivery periods for new business.
There are a few unsold parcels, but it appears supply and demand of milling quality oats in England is close to equilibrium.
There are parcels of feed oats to come to the market, which in certain locations are difficult to place.
The exceptional April weather comes to an end tomorrow as unsettled conditions arrive.
The spring oat crops are in need of half an inch of steady rain so time will tell what 'unsettled' brings.
Pulses
Old and new crop beans remain weak, the old crop market is still waiting for positive new from Egypt. New crop LIFFE premiums have fallen following plantings and the possible size of the resulting crop.
A 2016-17 Marrowfat pool is available in the Jan-March 2017 position. The available area is limited so please contact you farm trader if interested.
Seed
Gleadell can offer a wide range of mixtures and straights to aid growers with their EFA requirements, as well as grass and game cover mixtures. Cover crops are a great way to improve the quality and structure of the soil.
This autumn's winter oilseed rape portfolio comprises of many solid varieties, which are high on yield and oil content, as well as having strong disease portfolios. Incentive once again continues to be the variety that growers are asking for, now that it has gained their confidence by having a great year on farm last year. In 2013 Incentive also topped the Vverticillium wilt trials, producing the highest yield despite high pressure in the field. The "seed with speed" – Campus, from KWS, is also selling well due to its rapid autumn development and being a solid all-rounder. For growers in the northern area SY Harnas is top of the northern recommended list. SY Harnas is a hybrid variety that has excellent seed yield and a 7 for LLS resistance.
Reflection, a hard Group 4 variety, is the highest yielding wheat on the recommended list for 2015/16. As well as having this top yield potential, it is earlier than its competitors, which could make it a good partner to later-maturing varieties. Its short stiff straw, good disease resistance and high specific weight should all contribute to making this variety very popular with growers for this coming season.
Fertiliser
Urea
Globally, the spot market has found support as buyers return. In the UK morning temperatures remain cool and with rain forecast over the coming week, urea remains a popular choice as a competitively priced source of AN. Buyers continue to surface and this week has been busy with top-up tonnes in the eastern arable sector and finally interest is appearing in the west from grassland areas who have sat it out as long as possible. New season values continue to be a talking point and although FOB values reflect a 5 year low, currency is preventing values from reaching the levels where many were hoping to buy.
Ammonium nitrate
In the UK, GrowHow have held terms at current levels reflecting prices in Europe which remain firm due to tight supply. Any new season price correction looks highly unlikely in the short term although Importers continue to sell product at below replacement as they look to clear stocks in a nervous fashion. GrowHow can offer a five day delivery service and continue to perform at short notice.
ENhancePro
With the increasing popularity of high yielding Group 1 varieties, the potential for protein dilution in the grain becomes a possibility and nitrogen application programmes will have to reflect this. Hitting the required 13% protein levels required for milling wheat premiums by applying a late foliar nitrogen (at GS 69-75) premiums should be a priority for all growers this year. ENhancePro offered by Gleadell is a concentrated, foliar nitrogenous spray, unlike any other conventional foliar ureic product. Produced from highly bio-available sulphur (ATS), ENhancePro has been proven in field trails to significantly increase protein in milling wheats. It contains adhesion compounds and buffers so remains in contact with the leaf longer, improving absorption but minimises risk of scorching. Gleadell can offer a flag leaf tissue analysis to our milling wheat growers, to provide an indication of whether or not this late application of nitrogen is needed.