| | |
| --- | --- |
| 2015-04-17 | |
Crop Market Update from Gleadell
Asian purchases lift UK monthly wheat exports to a 3-year high but the export pace is still seen lagging.
Feed Wheat
USDA threw little crumbs of comfort to potential market bulls, as the numbers reported were within trade estimates and confirmed ample supplies globally. As reported last week, we commented that any signs of rain and the market would fall, well the rains arrived and subsequently the market fell, shedding $10 on the week. While these rains will bring much relief to drought-stricken areas, they are also seen to potentially delay corn plantings as fields remain too wet to work. Despite the rains, crop ratings slipped on the week with the national wheat crop reported at 42% good/excellent condition, down 2 percentage points on the week, but still above the 34% of a year earlier. Corn plantings had reached 2% complete, down from 3% a year earlier, and while there is still ample time to get the crop planted, some earlier planting southern states may now look to switch to soybeans as the optimal planting window closes.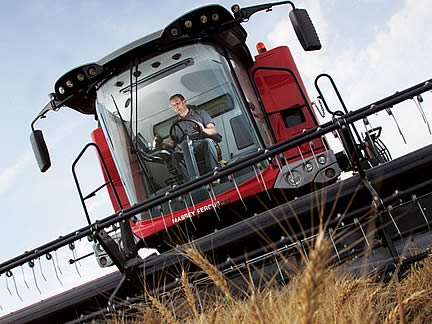 EU prices followed Chicago lower, trading down €4 on the week . EU exports slowed last week, and at just 189,000t were the lowest weekly figure since last July. The lack of exports has driven Russian interior prices lower, and despite being below state intervention levels, little is being offered. The Russian Government stated they will decide in May or June on extending the export-duty, and while this just prolongs the 'new-crop' uncertainty, it will allow the Government more time for better assessment of new-crop prospects, and potential further erosion of interior prices. Strategie Grains, while lifting its 2015/16 EU soft wheat forecast, warns removal of Russian export duty could harm EU wheat prices. They stated 'at this time, EU wheat does not need to gain demand at the expense of Black sea wheat, but it cannot afford to lose demand either, and removal of the duty at the beginning of the crop year, EU prices could have a significant downward potential to maintain a high level of exports'
The UK market, down £2 on the week, has been impacted by the firming £ which leaves wheat exports less competitive, both in US$ and € terms. Spot delivery premiums defy gravity as merchant shorts chase limited offers from growers. UK exports for February were reported at 267tmt, a 3-year monthly high boosted by the biggest non-EU monthly shipments since 2000, although the pace of shipments remains well below the level needed to avoid a heavy build-up in stocks.
In summary, weather and Russian politics will continue to drive the markets, and if you can correctly guess the outcome, you are in the wrong job! Fundamentally, there are ample supplies, a strong US$ will keep US exports on the defensive, increasing the likelihood that US stocks will end the season well in excess of 700mln bushels, and Russian/US weather has improved prospects over the last week. USDA data gave no reason for the major short (Chicago funds) to exit their record short position, but at one stage they will, and how that impacts upon the market is still to be seen!
Rapeseed
The MATIF futures market has continued to make gains this week aided by Euro USD weakness and a lack of physical sellers in Europe.
The UK market has seen decent volumes come forward from farm as target levels around £260 ex farm were hit, the UK market remains overpriced versus Europe. Early in the week we saw crusher demand for spot positions and they were able to buy good volumes. We feel farmers should consider locking out old crop around these levels as ex farm prices have gained circa £50 since the harvest lows, the majority of the move may well be over.
New crop remains quiet in the UK with a lack of sellers in the trade or on farm and crushers currently reluctant to buy.
Malting Barley
The new crop market is pressured by currency and the wider grain market however EU prices remain supported by third country demand for EU barley.
The market remains calm with little buying interest emerging.
EU plantings are set to benefit from favourable rains over the coming week.
EU maltsters are in a comfortable position with good stocks of crop14 and the potential for another good year moving into crop15.
With 15% of crop15 seed sales data still to be published, the most recent figures show Propino has taken close to 50% of the market share of spring varieties; Null-lox 9.9%, Irina 4.5%, Tipple 2.6%, Planet 1.4%, Quench 0.70%.
Selling opportunities for remaining crop14 stock are very limited with the focus on trade shorts.

Oats
Little change in old crop price levels as demand draws to a close.
Few fresh parcels are surfacing and those that are, are surplus to existing sales.
For new crop it is worth noting dry conditions from Dorset to Kent with little rain in the short term forecast.
It is very much a waiting game as growers have their attention elsewhere.
Pulses
New crop beans remain linked to premiums over LIFFE wheat and are freely offered basis £30 premium for feed plus human consumption upgrade if quality allows.
New crop large blue Daytona contracts are still available for contract areas only, for information contact your local farm trader. Marrowfat buy backs for 2016-17 have been fulfilled for the time being.
Seed
As growers draw to the end of their spring drilling the focus is now starting to shift towards this coming Autumn. The 2015/16 Recommended List contains new varieties to help growers achieve the top yields and quality.
For oilseed rape growers Wembley, from LSPB, is top of the candidate list for the E/W region and looks to be a solid all-rounder. SY-Harnas, a hybrid variety, is top of the northern recommended list it has an excellent seed yield and a 7 for LLS resistance. DK Exalte features excellent phoma and LLS resistance, pod shatter and rapid spring growth. Campus – the top conventional in 2014 in both E&W and Northern regions – is the best all round onventional variety. Stiff strawed with solid disease ratings including light leaf spot.
Setting the standard for new winter wheat's is Reflection, the highest yielding variety on the 2015/16 Recommended list from Syngenta. This hard group 4 variety is earlier than its competitors with good disease resistance and high specific weight. For growers looking for quality as well as yield Trinity is the highest yielding group 1 variety with consistent quality and an excellent disease resistance profile.
For any growers still looking for spring top-ups Gleadell can offer peas, barley and oilseeds for quick delivery. As well as small seeds including grass, game cover and EFA products.
Fertiliser
Urea
Globally there are signs that the market has now stabilised and in the US and Brazil we have seen levels moving higher. New business has been concluded this week into Europe, as buyers return to the market, meanwhile in the UK product continues to move onto farm at levels that are very competitive on a cost-per-nutrient basis compared to other sources of nitrogen. Forward values are starting to appear, speculation mainly around the fact that Urea prices on a global basis are at a five year low point, but buyers and sellers remain way apart at present.
Ammonium nitrate
Long holders of imported AN continue to clear stocks of AN held at ports throughout the UK .Product is being forced into the market at below replacement values. The delivery of product continues to be an issue due to the lack of FIAS registered hauliers, however GrowHow remain in the best position to guarantee prompt delivery onto farm and continue to hold values. Any new season price correction may have gone backwards as Ammonium Nitrate stocks across Europe remains tight, this situation will continue through April/ May.
NPK
UK prices have remained at current levels as demand continue to surface, buyers in the grassland areas are just starting to make enquiries which is 2/3 weeks later than a normal season. A major proportion of demand is for part loads and with the noted issues around registered hauliers, it is worth booking product early to ensure delivery in time for application.