| | |
| --- | --- |
| 2013-08-29 | |
Crop Market Update from Gleadell
Markets continue to be driven by US corn and soybean volatility as weather forecasts, fund buying and bouts of profit taking has produced a 'roller coaster' ride for prices over the week.
Feed Wheat
US DEC corn is $1 lower, having traded in a $15 range as concerns over the extended dry weather is threatening yield potential. While this may be the case for soybeans, corn is much further along the maturity process and this should limit further major downgrades on yields, currently projected around the 154bu/acre mark. The Pro Farmer crop tour projected a US corn crop of 13.46bln bushel, and although 300mln bushels lower than the USDA, if correct, would leave a US carry out of about 40mln t.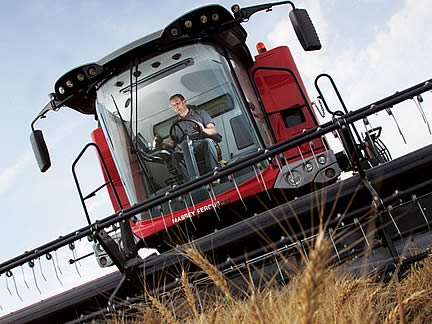 EU markets have moved higher, with MATIF up €3 reflecting the rise in the Chicago market. Harvest is almost complete in Northern Germany and France, with bigger than expected and better quality gathered, despite the hard winter and spring weather conditions. Export pace from within the EU remains brisk with soft wheat export certificates reported at 3.232mln t a/o Aug 22nd compared with 1.441mln t a year ago. Black sea offers remain strong, and at the latest Egyptian tender French wheat had lost some of its competitiveness.
UK like the MATIF has moved higher, with LIFFE trading £2.5 higher. Harvest progress is still lagging previous years, although quality is overall decent and reaching export standard despite earlier worries about weather damage. The UK is expected to produce the lowest wheat crop for a decade, although lower import requirements should still produce a small exportable surplus to market. DEFRA today released their cereal stock reports projecting total wheat stocks a/o end –June (England / Wales) up 21% year-on-year.
In summary it remains a corn story! Markets will react to adverse/favourable weather reports meaning volatility will remain until better assessment of yields can be determined. The US balance sheet can absorb further yield downgrades before price rationing starts, leaving wheat fundamentals, on their own, bearish.
Oilseed Rape
US weather has dominated the past week and had a positive influence on oilseed prices. The forecasts have been extremely hot and dry in some key US soybean producing states. The hot weather has also come at the crucial pod filling stage for soybeans. The weather problem has developed after the USDA cut the soybean acreage figure in its last report, and with the late plantings also posing frost risk in late September the market is now full of uncertainty about the soybean crop size. Until the harvest starts and bean yield results come through the market could remain very volatile.
Funds have been covering short positions in soybeans and this buying activity has helped elevate prices.
The matif rapeseed contract has ticked higher tracking soybeans and ex farm prices in excess of £300 are achievable across the UK. Rapeseed supply and demand fundamentals remain unchanged but if beans continue to rally you could see matif rally in support of beans. Predicting market direction from here is difficult as it all depends on the US weather and more importantly the impact of that weather on the crop which is the big unknown.
Malting Barley
This week has seen continued harvest progress throughout the UK and EU.
Quality overall is very good in the EU and has been excellent in England and Wales. At present nitrogen readings in Scotland are coming in higher. The market is assessing whether there will be some fresh demand for low nitrogen barley.
With high yields and high pass rates, harvest homes are almost completely covered.
There is still demand for low nitrogen on varieties such as Tipple at good premiums. There is also some demand for winter variety SY Venture.
Oct/Dec markets are drying up, please contact your Gleadell representative to discuss current markets.
Export markets are trading in small volumes for October-March period normally indicating movement after Christmas.
Null lox varieties have continued to do well in trials even in Scotland. New variety Chapeau has been the top performing in all 3 trials.
Gleadell are pleased to be able to offer a variety of 2014 contracts to suit all risk profiles including premium over wheat futures to our non-defaultable pool.
We still have limited contracts for Null-lox in the Oct – Dec period and on the winters after a very good year this year, SY Venture is set to remain in high demand for 2014.

Oats
The spring oats in the south have finally been combined with mixed results due to the July heat.
Growers will be able to clean/screen certain parcels but 40/45 kg heaps are destined for other markets.
Reports from further north give stronger bushel weights and better quality and the volume of the expected UK surplus could now keep prices at current lower levels.
Pulses
The bean harvest has started, winter samples are good in appearance and so farm beetle damage is limited. Spring samples are also good, although small in size which may be a result to the late drilling, beetle damage is a little more variable but appearance is overall good.
The human consumption market is pretty strong with good early shipment demand, feed markets remain a struggle with a distinct lack of buyers.
Pea harvest is now done and overall the conclusion is good yield and quality.
Seed
Many growers are now looking at OSR entry, and with many not ordering earlier in the season attention has turned to covering requirements, with many growers buying seed on a field by field basis.
Two new varieties Ginfizz and Incentive look to be performing extremely well – with good gross output scores. These varieties bring earliness to the top of the list, along with other excellent agronomic factors.
Avatar and Compass have also performed exceptionally well, and PR46W21 maintains it's very consistent performance right at the top of the HGCA list based on the 5 year mean. However, we may see it pushed off the top spot this year.
Turning to conventional's we are seeing good demand for the farm favourite DK Cabernet along with an off-list variety ES Alegria – with early maturity and good resistance to Verticillium wilt.
Another farmer favourite Excalibur is once again in demand. For growers looking for this variety type we can also offer the variety SY Fighter which has also had a good start to the trialling year.
Growers looking for RLM7 phoma resistance should look no further than DK ExStorm – early indications suggest this has performed well this season.
We have OSR seed available for next day delivery if ordered by midday – and in certain areas we have the ability to offer farmer collections from store.
Turning to wheat, we have had our first crops of Icebreaker and Cougar seed cut .Yields have been excellent – upwards of 10mt/ha - and with excellent bushel weights too . Due to Icebreaker yielding well we are in a position to offer a small surplus to our earlier sold out pre-release on the variety, a must have for anybody wanting to drill early – we can deliver Icebreaker and Grafton to farm next week for anybody looking to get an early start with wheat drilling.
Fertiliser
Ammonium Nitrate
Values are unchanged and continue to trade sideways. European values are trading above where the UK are today, so imported product remains expensive when compared to UK. GrowHow products still offer fantastic value in the market when compared to imported product and some very competitive deals can be found in the Sept/Oct position.
P&K
No change in potash values after worldwide acceptance of prices, after the BPC news. Execution of trades in the middle east are continuing and renegotiation on further supply contracts are resuming. Phosphate is finding a level, at which demand is building, trades in to India, even with a currency disadvantage, are also adding weight to current prices. Any PK applications, on low index soils are the highest through Sept/October so demand is expected to be brisk through this period as more and more land is cleared in front of autumn drilling.
Urea
Values on the week are unchanged, with buyers showing signs of returning to the market. Tenders in Egypt this week may start to give some direction to future pricing with feelings now the floor is approaching, so potential upside is a lot greater than any further downside from today. We have seen plant shut downs in the Ukraine as current values get very close to production costs for most factories, which are now as low as we have seen for four years. On a cost per unit basis, Urea offers excellent value and if you are in a position and you know your future requirements, today presents an excellent opportunity to take some cover.